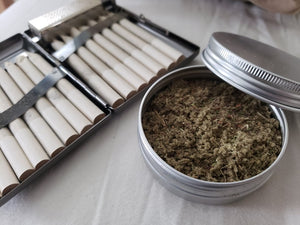 Herbal smoke blends are combination of various herbs that can be placed in a pipe or rolled into a cigarette.  Most of the blends in this shop are used to promote relaxation, sleep, slight euphoria or to assist with more vivid dreaming.  Get a sample size (2 tablespoons), a 2 ounce tin, or 12 filtered pre-rolls.
Options:
Dream Deep - Mugwort is the star of this herbal show, This blend is about sleeping well, and dreaming deeply.
Bedtime - Passionflower helps prepare the body for sleep as this blend assists with the evening wind down.

Bliss Blend - Blue Lotus makes this relaxing blend give your senses just a little lift.  May cause a delightful tingle in your fingers and toes.
Mood Mender - Feeling funky? Unwind and uplift with this vibrant blend of Damiana and peppermint.  Also great for those trying to get in 'the mood'.
Sweet Release - This smoke blend is a combination of sweet notes and florals for a gentle, tasty, but profound relaxing experience.