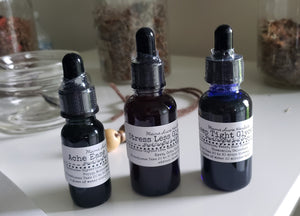 Don't have time for tea?  Glycerites are for you!  These glycerin based tinctures are packed with the power of plants, and can be taken by the droperful rather than the cupful.
Varieties:
Sleep Tight Glycerite: Perfect for those seeking to ease their journey into dreamland.
Sleep Tight Jr.: Perfect for easing little minds and bodies in need of slumber.  Catnip and chamomile calm everything down.
Stress Less Glycerite: Kava, Gotu and Skullcap blend together to help you take the edge off.  Throw in your bag or in the car for stress management on the go!
Ache Ease Glycerite: Great for sore joints, aching heads and general discomfort.
Rose Petal Glycerite:  This glycerite is good for the emotions.  It strengthens the heart and soothes away grief.
Blue Euphoria: Blue lotus and CBD make this potent glycerite a wonderful choice for times when you want to relax and get out of your head.