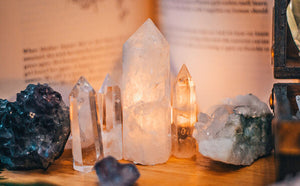 These Metaphysical and Herbal services are offered in my home office.
Available Services 
Muscle Testing:
$25 for 30 minutes
This is a form of physical dowsing that helps identify what external support your body might be looking for.  This is a great way to take out some of the guess work when it comes to herbs and crystals.  This method is easy and non-invasive.  There are two services offered: Herbs and Crystals.  Each appointment comes with a cup of tea, a dowsing session, and an oracle card pull. 
Herbal Consultation:
$45 for 1 hour
Do you have questions about what herbs are right for you?  Want help building and maintaining a regimen?  This hour long consult involves a short intake, muscle testing and routine/remedy suggestions.  Perfect for people who are unsure of where to start.
Intentions and Oracle Cards:
$25 for 30 minutes
Need help setting an intention or deciding what to release?  This is essentially a life coaching session that involves using Oracle cards to help set the focus for your intentions.  Great for those of us who want to make changes but are overwhelmed by the options.
Shadow Work Coaching:
$45 for a 1 hour session
$25 for 30 minute follow-up sessions
Want to get into shadow work but not sure where to begin?  This session is perfect for you.  Together we will identify some places to begin, and a method of shadow work that will be effective for you.  Shadow work is only as effective as your ability to maintain it.
Intro to Crystals for Kids and Teens:
$25 for 30 Minutes
This session is the "how to" of crystals.  Kids and Teens will learn how to select, care for and use their crystals in a responsible way.  Like all the sessions offered, this mini-class is down to earth, informative and fun.  Kids and teens will leave feeling confident about crystals.
Disclaimer:  All classes and services are for information and entertainment only, and should not be interpreted as medical advice or care.