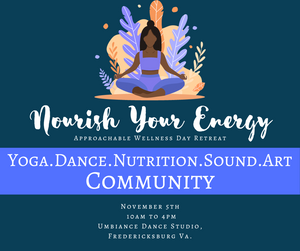 Join us for a day all about nourishing, balancing, and maintaining your energy.  Relax, move, eat, paint, laugh and enjoy a community of likeminded people who just want to live a little better each day.   No experience necessary!  This is a beginner friendly gathering that will hopefully send you home with an understanding of what your energetic body is, and simple ways to care for it each and every day.  This is energy care for regular people, so come as you are, and expect practitioners who are easy going, caring and fun.
Retreat Experience Includes:
Basic Yoga w/ Claudia (Better 4 You Juices)
Sound Meditation and Immersion w/ Jamila  (Mama Luvs Herbs)
Somatic Movement w/ Kay (Umbiance Center for the Performing Arts)
Catered Vegetable Forward Lunch from Chef Nikk (Chef Nikk's Creations)
Sip and Paint w/ Meech (Art By Meech)
Fresh Pressed Juices by Better 4 You Juices!
Details

Date: November 5th, 2023
Time: 10am to 5pm
Investment: $185
Location: Umbiance Center for the Performing Arts
A note on payment:  We want to make this experience accessible to a wide range of people while also fairly compensating our practitioners.  If you would like to make arrangements to break up your payments, please select the 'Payment Plan' option below (the first payment is required) and reach out to Jamila @jamila.york@gmail.com.  The investment must be paid in full by the date of the event.
Refunds: The event investment is refundable in full until October 26th, 2023.  Event tickets are transferable.